10 Plant-Based Superfoods Every Vegan Should Have in Their Pantry
February 28, 2023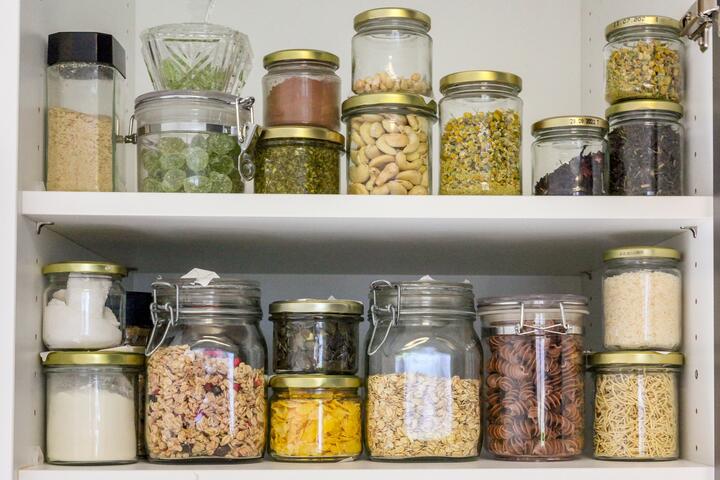 Photo by Filmbetrachter on Pixabay
Without any delay, here is a list of my top 10 plant-based superfoods.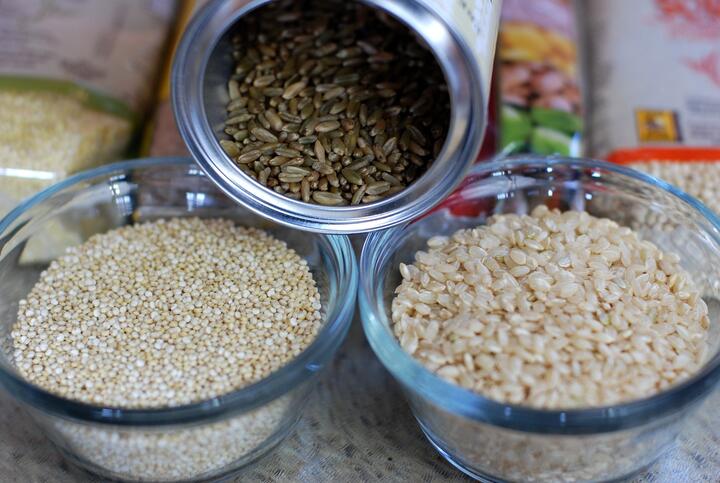 Photo by NatureFriend on Pixabay
Whole grains are a filling and essential component of a whole food plant-based diet, rich in fiber and nutrients, and a must-have for a well-stocked plant-based pantry. However, it's important to opt for WHOLE grains, and avoid processed versions such as white rice, white pasta, white flour, and white bread, as they have been stripped of most of their fiber and nutrients, leaving behind only empty calories and pro-inflammatory properties.
Fortunately, it is possible to include bread in a plant-based diet, as long as you read the label and choose a brand that is 100% whole grain and has little to no added sugar, oil, and sodium. The first ingredient should be 100% whole or sprouted grain.
Examples of whole grains that are great for a plant-based diet include:
- Brown rice
- Wild rice
- Quinoa
- Oats (steel cut or old fashioned)
- Barley
- Bulgur
- Farro
- Whole wheat
- Whole rye
- Spelt
- Millet
- Buckwheat
- Amaranth
- Teff
- Sorghum
However, it is important to note that there is growing concern about the levels of arsenic in brown rice, wild rice, and black rice, even in organic varieties, due to soil pollution. The lowest levels of arsenic are found in rice from California, India, and Pakistan, while the highest levels are from Texas, Arkansas, and Louisiana. The Lundberg brand has been shown to have lower levels of arsenic. It is recommended to limit brown rice to just a few times a week and consider quinoa as a substitute, as it doesn't have the same issues with arsenic as brown rice.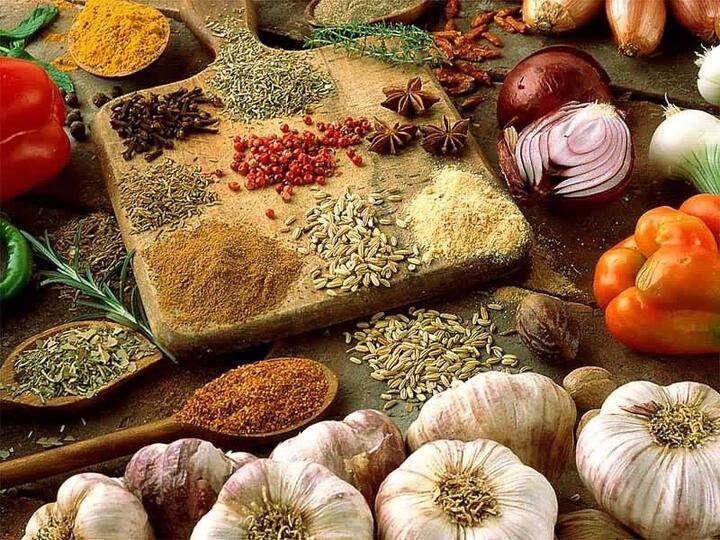 Photo by Ali Eminov on Flickr
Having a variety of dried herbs and spices in your pantry is crucial for enhancing the flavor of plant-based dishes. It's recommended to regularly replace any spices that have been sitting in your pantry for over a year for optimal taste and antioxidant benefits.
Nutritional yeast is another essential pantry item for vegans, as it's a great source of B vitamins and provides a cheesy flavor to many dishes.
Here's a list of dried herbs and spices to stock in your plant-based pantry:
- Nutritional yeast
- Oregano
- Basil
- Garlic powder
- Onion powder
- Chili powder
- Smoked paprika
- Parsley
- Cumin
- Coriander
- Curry powder
- Ground cinnamon
- Nutmeg
- Cloves
- Allspice
- Turmeric
- Everything Bagel Seasoning (great on avocado toast!)
- Cayenne pepper
- Black pepper
- Black salt (Kala namak, which adds an eggy flavor to dishes like tofu scrambles)
- Italian seasoning
- Sage
- Rosemary
- Dill
- Marjoram
- Thyme
- No-salt seasoning blends like Mrs. Dash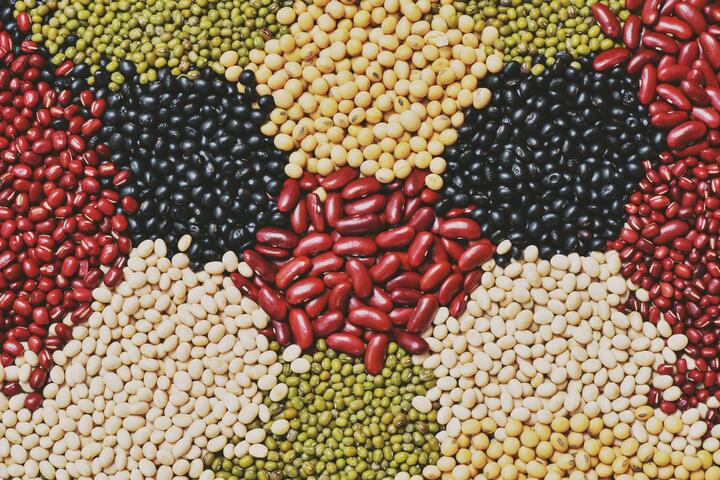 Photo by Domenic Misurka on Flickr
Having shelf-stable sources of protein is crucial for any kitchen, especially for those following a plant-based diet. Beans and lentils are versatile options, whether dried or canned, that provide clean sources of iron and protein. These pantry staples are rich in fiber, nutrients, anti-oxidants, minerals, calcium, and protein, which is essential for a plant-based diet.
To ensure quick and easy meal options, I prefer to keep a variety of canned and dried beans and lentils in my pantry. While canned beans are convenient, it's important to choose BPA-free cans, preferably organic, with low sodium or no added salt.
In my pantry, I always have the following:
Canned:
- Black beans
- Chickpeas (great for making hummus)
- Red kidney beans
- Cannellini beans
- Northern white beans
- Lentils
- Lima beans
- Pinto beans
- Vegetarian or fat-free refried beans
Dried:
- Black beans
- Chickpeas
- Black-eyed peas
- Red lentils
- Brown or green lentils
- Green split peas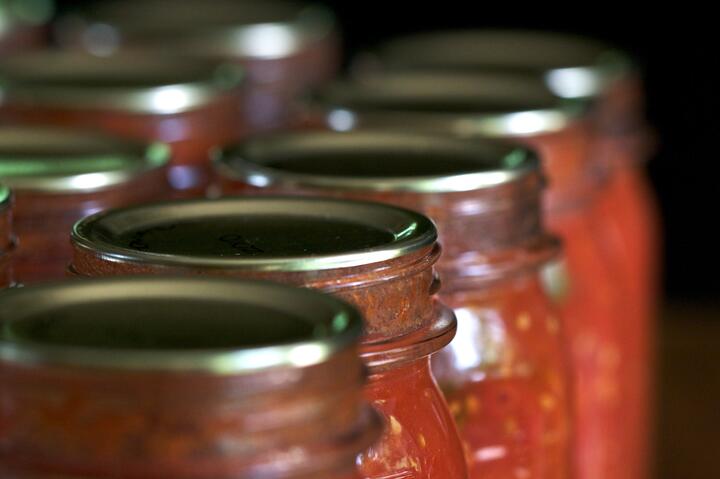 Photo by Chiot's Run on Flickr
Canned tomatoes and tomato products are a versatile and essential ingredient in any plant-based pantry. They can be used to enhance the flavor of soups, stews, chili, spaghetti sauce, and many other dishes. When selecting canned tomatoes, it is important to choose BPA-free cans and opt for organic varieties if possible. Additionally, look for low-sodium or no-salt-added options to keep sodium intake in check.
Here are some common canned tomato products to keep in stock:
- Diced tomatoes: perfect for adding to chili, soups, or as a topping for baked potatoes
- Diced tomatoes with chilis: add some heat and flavor to your dishes with this spicy option
- Crushed tomatoes: great for making tomato sauce or pizza sauce
- Tomato paste: adds a concentrated tomato flavor to sauces and stews
- Tomato sauce: a smooth and versatile tomato base for many recipes
- Pasta sauce: a convenient option for a quick and easy pasta meal
- Red enchilada sauce: adds a delicious flavor to enchiladas, tacos, and other Mexican dishes. Look for lower sodium options like the Whole Foods organic 365 brand.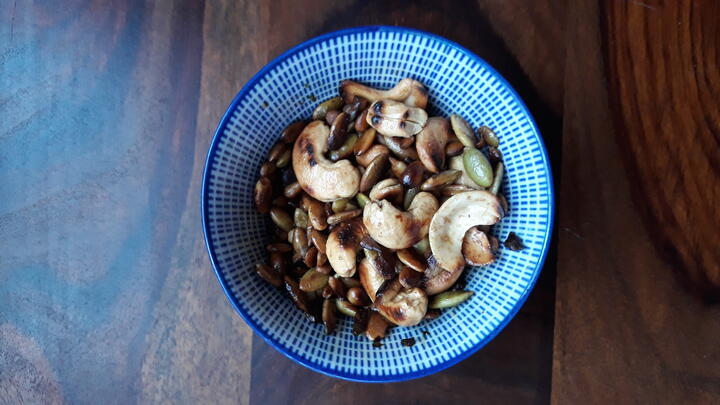 Photo by Rain Rabbit on Flickr
Nuts and seeds are a crucial source of healthy fats for our brain and heart, making them an essential plant-based pantry staple. They are also great for creating delicious dressings and sauces like creamy ranch or nacho cheese. Additionally, we can get plenty of omega-3 fatty acids from some nuts and seeds like walnuts, ground flaxseed, and chia seeds. Try adding ground flaxseed to your morning smoothie or as an egg substitute when baking by whisking 1 tablespoon of ground flaxseed with a 1/4 cup of water and letting it sit for 5 minutes - this replaces one egg.
It is important to choose unsalted nuts and seeds, and here are some great options to stock in your plant-based pantry:
- Almonds
- Cashews
- Pistachios
- Sunflower seeds
- Pumpkin seeds
- Ground flaxseed
- Chia seeds
- Walnuts
- Unsweetened coconut flakes
- Nut butters (peanut, almond, cashew, etc.)
- Tahini (great for making hummus!)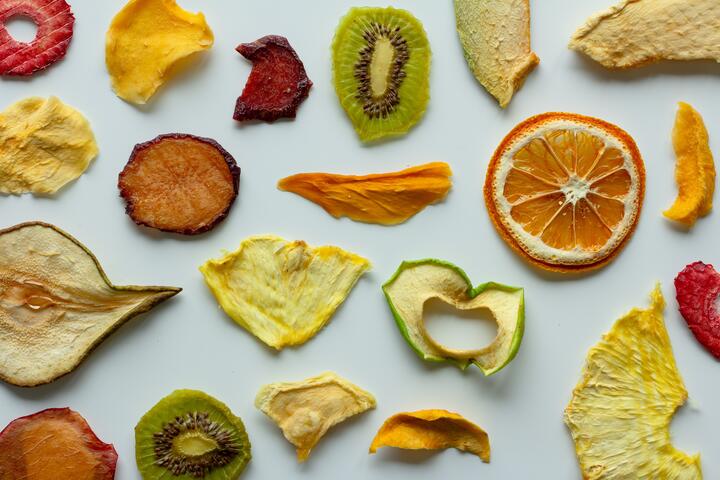 Photo by K8 on Unsplash
In addition to being a delicious addition to a morning muesli, dried fruits can also be a great on-the-go snack or a way to add natural sweetness to recipes. Dates, in particular, are a versatile ingredient that can be used to make date paste, a healthy and nutrient-dense alternative to sugar in baking recipes.
Here are some dried fruits to consider adding to your plant-based pantry:
- Dates: great for making date paste, as well as snacking
- Chopped dates: can be added to muesli, oatmeal, or baked goods
- Raisins: a classic addition to oatmeal or trail mix
- Dried cranberries: a tasty addition to salads or granola
- Dried cherries: great for snacking or adding to baked goods
- Unsweetened banana chips: a crunchy snack on their own or added to trail mix
- Dried goji berries: a nutrient-dense addition to smoothie bowls or granola