The Vegan Recipes That Taste Like Meat
February 24, 2023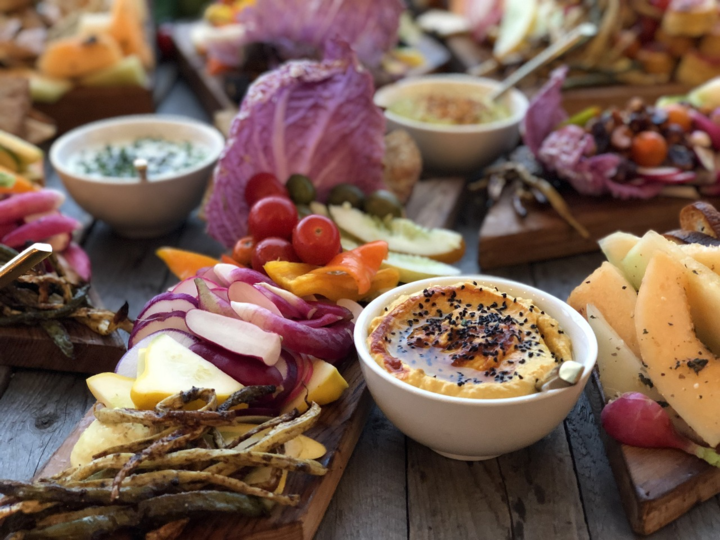 Photo by AquaSpiritLens on Pixabay
So, how do vegans make the vegan recipes that taste like meat?
Here are some common methods:
1. Use meat substitutes: There are many meat substitutes available on the market, such as tofu, tempeh, seitan, and plant-based meat products. These products can be used as a substitute for meat in recipes, and can be flavored and seasoned to mimic the taste and texture of meat.
2. Use umami-rich ingredients: Umami is the savory flavor that is often associated with meat. To add umami to vegan recipes, you can use ingredients like mushrooms, miso paste, soy sauce, nutritional yeast, and tomato paste. These ingredients can help to create a meaty flavor in your dishes.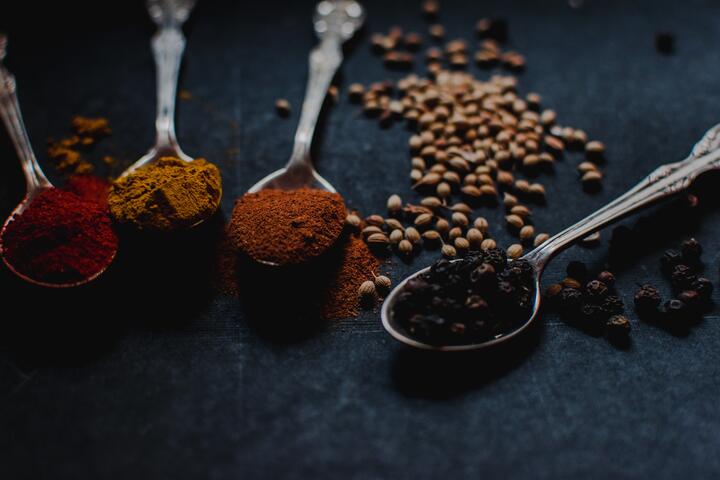 Photo by Pratiksha Mohanty on Unsplash
3. Use meat seasonings and spices: Meat has a distinct flavor that can be replicated using seasonings and spices. For example, using smoked paprika, liquid smoke, and BBQ sauce can give your vegan dishes a smoky flavor similar to meat. You can also use spices like cumin, coriander, and chili powder to add depth and complexity to your dishes.
4. Texture is important: Meat has a distinct texture, so it's important to pay attention to texture when making vegan dishes that taste like meat. For example, using a meat grinder to grind mushrooms or tempeh can give it a ground meat-like texture. Using jackfruit, which has a stringy texture, can mimic the texture of pulled pork.
Here are some homemade vegan recipes that taste like meat. Let's try!
1. Smoky Black Bean Sausage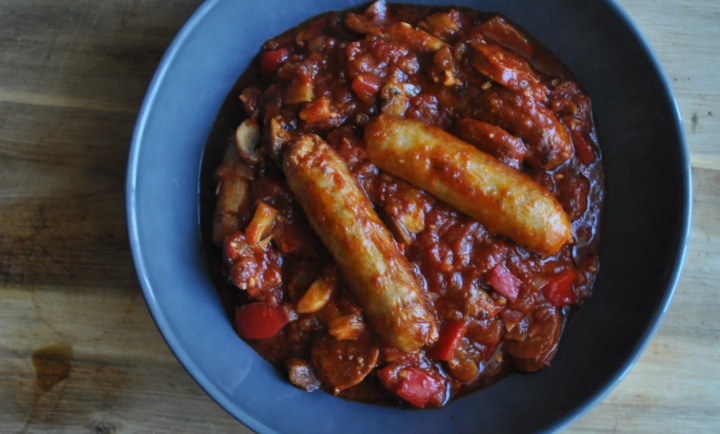 Looking for a vegan breakfast option that doesn't compromise on taste? Try the Black Bean Breakfast Sausage recipe! This recipe perfectly captures the savory, smoky flavor of traditional breakfast sausage with the help of key ingredients like smoked paprika, tomato, and fennel. Plus, it's gluten-free and can be shaped into patties or links to fit your preference. Whether you're looking to reduce your meat consumption or simply want to switch up your morning routine, this recipe is a delicious and satisfying alternative.
Photo by Matthieu Joannon on Unsplash
There is a clever way to make vegetable gyoza taste just as delicious as their meat-filled counterparts. You can combine mushrooms with a medley of aromatic vegetables such as onion, garlic, and ginger to create a flavorful and satisfying dumpling filling. The result is a mouthwatering vegetarian dish that even meat-lovers will adore.
This recipe has earned a well-deserved 5-star rating, and it's easy to see why. The savory combination of ingredients is truly a match made in culinary heaven. Not only is it delicious, but it's also incredibly convenient. Make a double batch and freeze some for later, so you can enjoy this instant classic whenever you're in the mood for a quick and tasty meal.
3. Jackfruit Pulled Pork Sandwich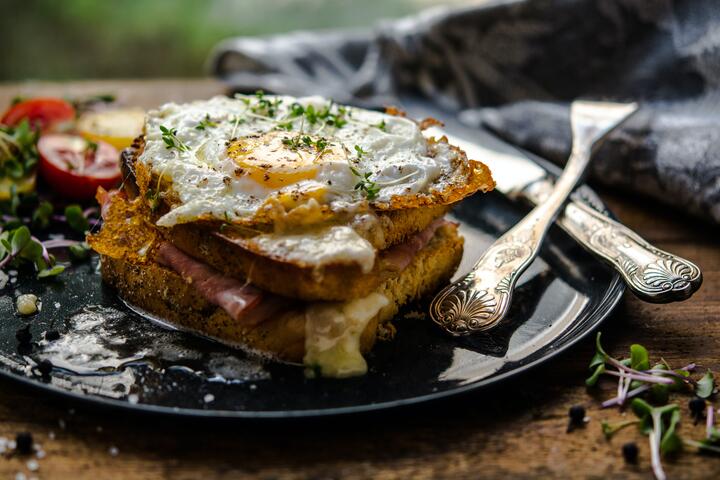 Photo by Jonathan Pielmayer on Unsplash
With its focus on simple, satisfying flavors, it's no surprise that this sandwich has become a crowd-pleaser. The recipe is designed to recreate the taste and texture of traditional slow-cooked pulled pork, without the need for hours of cooking time.
The beauty of this sandwich lies in its simplicity. Whether enjoyed on a bun or paired with coleslaw, the BBQ sauce is the star of the show. Best of all, this recipe allows you to customize your sauce to your liking, whether you prefer a tangy, spicy, or sweet flavor. You can even use your favorite store-bought BBQ sauce for added convenience.
Despite its straightforward approach, this sandwich is anything but basic. The tender, smoky jackfruit pairs perfectly with the rich, flavorful BBQ sauce, creating a sandwich that will have you coming back for more. This recipe is the perfect choice for those looking for a delicious and fuss-free meal that still packs a flavorful punch.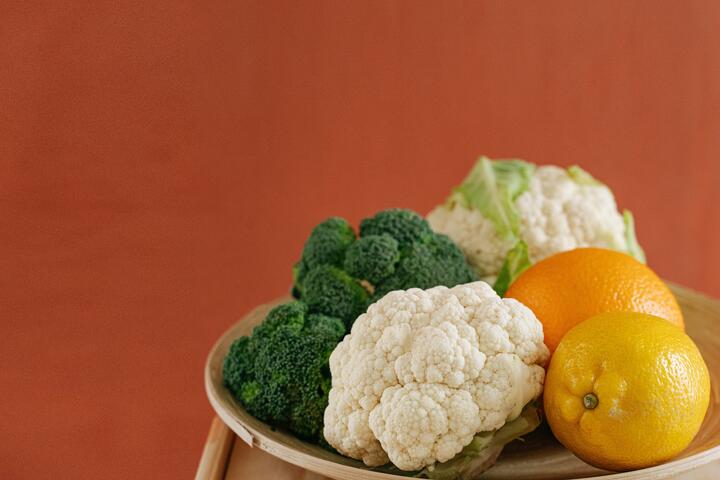 Photo by Ivan Samkov on Pexels
This Sticky Sesame Cauliflower recipe is a true winner, as it expertly captures the essence of a classic Sesame Chicken dish. The focus here is on two essential elements that make the original dish so good: the texture and the sauce. And this recipe definitely delivers on both fronts.
The texture of the cauliflower is crispy and crunchy, just like the chicken in a classic Sesame Chicken dish. And the sticky sauce is bursting with sweet and savory flavors, thanks to a masterful blend of soy sauce, rice vinegar, honey, ginger, garlic, and sesame oil. The end result is a dish that truly rivals the original classic in taste and satisfaction.
One of the best things about this recipe is that it puts the spotlight on the sauce, which is often the real star of many dishes. And this sauce ROCKS! It's the perfect complement to the crispy cauliflower, and it's so delicious that you'll want to put it on everything.
But what really sets this recipe apart is its healthfulness. Unlike the original dish, which is often deep-fried, this version is baked, making it a much healthier alternative. So you can indulge in this scrumptious dish without any guilt, knowing that it's good for you too.
5. Tofu "Eggy" Sandwiches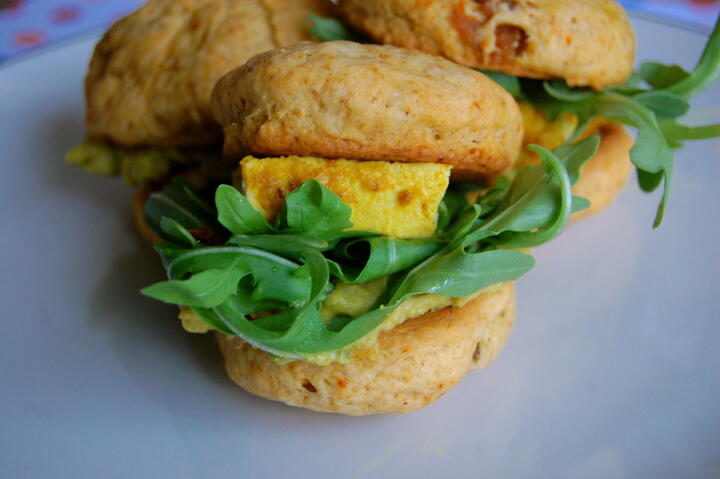 Photo by Mr. Tender Branson on Flickr
Get ready to enjoy a vegan take on a classic fast-food favorite with these Vegan Breakfast Sandwiches with "Eggy" Tofu. This recipe expertly recreates the mouthwatering flavor of a McDonald's Egg McMuffin, but with a healthy and animal-friendly twist. Instead of using traditional eggs, the tofu has been seasoned using the Black Salt technique mentioned above to give it that eggy taste and texture.
Not only does this recipe taste delicious, but it's also incredibly easy to make. With just a few simple ingredients and some basic cooking skills, you can whip up a batch of these sandwiches in no time. Plus, since they're made with wholesome, plant-based ingredients, they're a much healthier alternative to the original.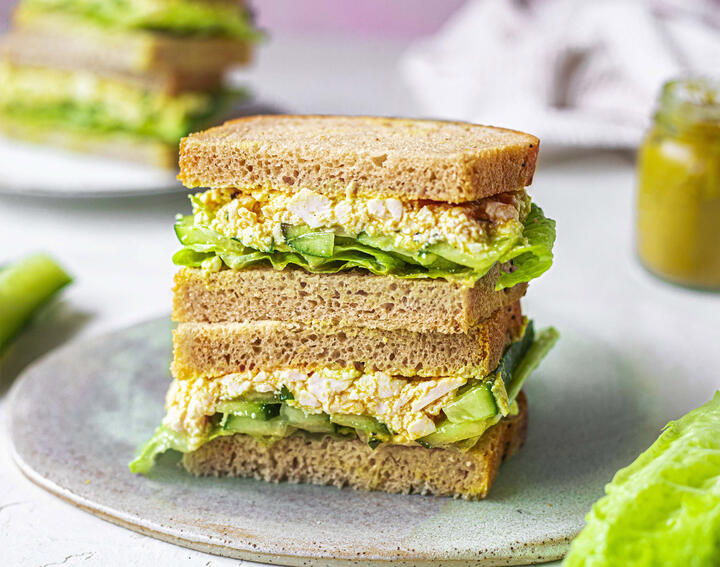 The tofu patty is sandwiched between a toasted English muffin or bagel, along with other tasty toppings like vegan cheese, avocado, and tomato. The result is a savory, satisfying breakfast sandwich that will leave you feeling energized and ready to take on the day.
Whether you're a vegan looking for a tasty breakfast option or simply want to try something new, these Vegan Breakfast Sandwiches with "Eggy" Tofu are sure to impress. So why not give this recipe a try and start your morning off on a delicious and healthy note?